Hypnotherapy for Anxiety and Panic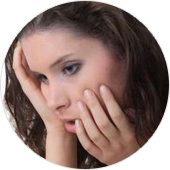 Let's create a peaceful mind.
If life is getting you down, it can be difficult to see a way past it.
Yet it you don't take a step towards getting better, you risk succumbing to a life that is a complete reflection of your thoughts – sad, angry, difficult and problematic.
A depressed or anxious mind also creates disharmony in the body, which can lead to frequent illness and even disease.
Deciding that you want to get better is the first step. Once you decide, hypnotherapy can be the solution you need to alter your mindset so that you can start living the life you were made for. A great one.
What we will work on is creating a peaceful mind. One that leads to a relaxed body and helps you heal from the inside out.
Meditation and self hypnosis can be incredibly powerful in this area, and I can teach you to make it an important part of your daily life, so that you reap the benefits.
My extensive experience and qualifications allow me to work with you patiently and kindly, and help you get to a point where you not only see a way out of your anxiety, but an exciting life ahead.
Get control of your life and your thinking. Contact me today.
You need 3 to 4 sessions on weekly intervals.