Hypnotherapy for Learning and Study Difficulties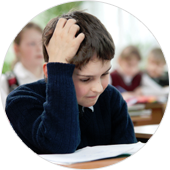 Many children and adults have difficulties with learning and studying.
Especially if you suffer from internal speak that ruins your confidence, such as "you're not good enough", "you won't achieve it", or "why bother?".
Getting to the root of this internal speak is paramount to changing your ability to study well.
Through hypnotherapy and psychotherapy, I will help you change the way you think and feel about studying – replacing that negative self-talk with a determined, focussed and joyful mindset that will help you achieve the success you seek.
What you think you are is what you are. So let's make sure you know you rock!
Get in touch to discuss your study therapy today.