Quit Smoking Hypnotherapy CANBERRA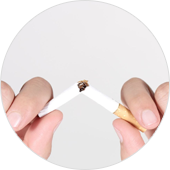 Smoking is a coping mechanism. It often starts with peer pressure and the enjoyment of feeling grown up. But it soon progresses to a nasty addiction, that controls your mind and ruins your health. Not to mention the cost.
Quit Smoking Hypnotherapy takes just one session.
We will uncover the deeper reasons behind why you smoke, to ensure that we protect you from starting again at some point in the future.
Sometimes people avoid quitting smoking for fear of putting on weight. And this will only happen if you replace one addiction (smoking) with another (food). If you have these concerns, we will work together to ensure that this does not become a problem for you.
Once you've made a true decision to quit smoking, all that's left is to replace the little voice that tells you that you need a cigarette, with a confident and changed version of yourself that knows you don't.
Smoking cessation takes one session, which runs for one and a half hours. A specially prepared audio CD is included for you to play at home. If you need a follow-up (booster) session we can arrange this for you within ten days (at a minimal cost). Though generally the first session is so successful that clients rarely take advantage of the booster session.
My success rate is 97%. Let me help you break free of cigarettes and start a new life.